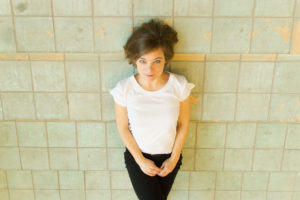 The first thing that strikes you when you meet Noa Moon  is her sparkling blue eyes. The same eyes that gazed out at us from the cover photo of her very first EP, "River". Five years later, the young woman's eyes are just as sparkling. At 26, Manon – de Carvalho Coomans to give her her full name – is more sensitive and luminous than ever. After a light, poppy first album revealed to her native Belgium ("Let Them Talk" in 2013, with its snappy single "Paradise"), the Brussels native already had itchy feet and a desire to push her envelope way beyond the frontiers of this first offering.
So, here comes the second album, "Azurite", scheduled for landing on April 21st 2017. Here is a record that will undoubtedly be seen by many as the album of her maturity. And – notwithstanding the hackneyed term – they will be right. Between times, Manon has indeed grown and evolved, spectacularly redrawing the lines of her past desires. She has discovered herself, both artistically and on a human and emotional level. She underlines that the process continues as, in her words, "We never really stop seeking".
The result is a highly personal album with a new, darker undertone. The writing is rawer and less reworked, laid down rough and urgent with a "home recording" feel at Frette Studios in their converted old manor in Paris. If Noa Moon is the sole author on the project, the choice of production goes to the duo Daniel Offerman and Nicolas Quere, with Sire Theo Clark coaching on matters of the English tongue.